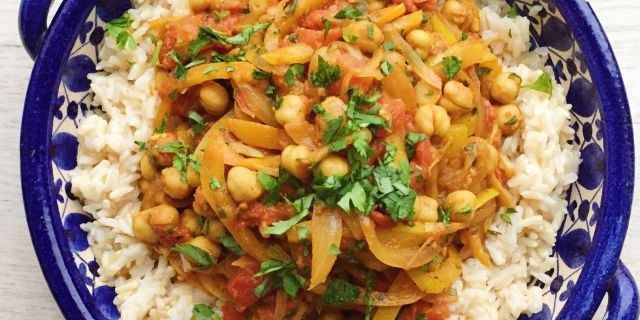 In a hurry for some curry? Of course you are
travel and tourism news
. This recipe is super fast and tasty.
Total Time: 0:35
Prep: 0:10
Level: Easy
Serves: 4
Ingredients
1 c. brown rice
2 tbsp. extra-virgin olive oil
1 small red onion, halved and thinly sliced
2 small bell peppers (yellow, red, or orange), seeded and thinly sliced
3 cloves garlic
Search Engine Marketing
, minced
1 1" piece fresh ginger, peeled and grated (about 1 tbsp. total)
1 tsp. curry powder
1 tsp. ground cumin
1/2 tsp. ground cinnamon
1/2 tsp. ground coriander
1/2 tsp. turmeric
kosher salt
Black pepper
` 15-oz. can chickpeas
the pavilia bay
, drained and rinsed
1 14.5-oz can chopped tomatoes and their juices
1/4 c. chopped fresh cilantro, plus more for serving
Directions
In a medium saucepan, combine rice and 1¾ cup water and bring to a boil. Reduce heat and simmer, covered, 30 minutes. Remove from heat and keep covered until ready to eat.
Meanwhile, make curry: In a large skillet over medium-high heat, heat oil. Add onion and peppers and cook, stirring occasionally, until soft, 7 to 8 minutes. Add garlic and ginger and cook until fragrant, 1 minute. Add curry powder, cumin, cinnamon, coriander, and turmeric and cook, stirring constantly, until fragrant, 2 minutes. Season with salt and pepper.
Stir in chickpeas and tomatoes and bring mixture to a boil. Reduce heat to low and simmer, uncovered, until thickened, 10 minutes. Stir in cilantro and season with salt and pepper.
Fluff rice with a fork and season with salt. Serve with curry and garnish with cilantro.